Think of your favorite pasta sauce. What are the main ingredients? Tomatoes, peppers, oil, spices, and… endless emails.
Wait, what?
It's true, and sadly all too common. Along with the physical supply chain to create this product, there's a digital content supply chain that also helps to put food in your pantry.
We presented a webinar on how one of our customers, a major consumer packaged goods (CPG) company is addressing this challenge. Along with David Lipsey and the Henry Stewart team, we talked about 5 ways to get DAM implementation right.
In it, we tell the story of a CPG company that is leveraging a DAM system for all aspects of managing its rich content assets - from streamlining DAM workflows to better advertising agency collaboration, ensuring fast and easy searches for videos, images, and more.
For transparency's sake, I've changed names to protect the innocent and I'll refer to our customer as Pasta Buddy.
Pasta Buddy is a $10 billion food company. Their DAM implementation is part of a larger digital transformation initiative to become a more agile, productive company. Pasta Buddy needs to rapidly scale up their efforts in e-commerce, which are relatively new and immature for this very long-established brand.
If you're looking for a DAM solution, want to make your DAM initiative a roaring success, or wondering when and how to implement a DAM system as part of a larger digital transformation initiative, please continue reading.
Learn more about digital asset management for food & beverage companies in this short brief >
The 5 Digital Asset Management best practices for implementation I'll focus on include:
How making content findable, across content silos, boosts productivity
How a DAM solution can unlock massive revenue growth
How to integrate DAM systems and other information management systems
Why it's important to stay flexible and nimble
How to know if you're being ambitious enough, or too ambitious
You can watch the full video, or read the article below:


Making content findable across silos
Search is hard
Why is searching across silos such a devil of a problem? Let me tell you a story about a humble jar of tomato sauce, made by the brand Pasta Buddy. And specifically, let's talk about the 16.9 oz jar.
The Pasta Buddy Chunky-Style brand manager, Mr. Delicioso Rosso, is responsible for managing the creative development of the brand and its overall performance. Like in most consumer packaged goods companies, brand managers at Pasta Buddy are the general managers of their brands.
When Rosso works with his agencies and the internal creative department, he focuses on capturing product shots like the one above, but also in-context lifestyle shots that help tell the brand story.
Brand management
First of all, let's start by defining the term: What is Brand Management?. You can read this blog to learn more.
Now, Pasta Buddy is a company with a long and rich history, but along with its lineage come many outdated legacy systems and processes. In particular, brand managers like Rosso focus largely on the domestic consumer market, while other divisions sell the same products to commercial food services and internationally.
The challenge is that the commercial food service division has different needs. To take Chunky-Style pasta sauce to their business customers, they need sales collateral: brochures, presentations, comparison charts on why Pasta Buddy makes the best sauce, and other content that Delicioso Rosso, as a B2C marketer, doesn't worry himself about.
And then there's the international division. When they're selling a 16.9 oz jar of Chunky-Style sauce in Canada and Japan, they need to replace the nutrition label with local content and the sizing to 500g.
So even if Rosso stores production-ready packaging and lifestyle shots on the internal file share, and even if the food services and international teams knew that this digital content was there, it wouldn't help them all that much. What they need access to aren't just final images, but also the design files, so they can make appropriate modifications.
So how was Pasta Buddy managing this before DAM?
The chain letter of the content chase
If Mr. Aka, the international marketing manager for Japan, needed access to Pasta Buddy Chunky-Style, he might send brand manager Rosso an email on Monday. Rosso has a packed inbox, so he misses the email.
On Wednesday, Aka pings Rosso again.
The next morning, Rosso apologizes for the delay and lets Aka know he's on the case.
Rosso emails Jonathan Adom, his agency's Account Manager.
Jonathan emails Sujal Laal, the agency's Creative Director, the next morning. Unfortunately she's taking the day off, so she doesn't see the email until Monday morning, when she passes the request on to the creative who did the work last time, Amal Ahmar.
Amal is on deadline, so she doesn't see the email until Tuesday morning. She finds the file on her laptop and sends it back to Sujal, but gets a failed send reply from the agency's email system because the file is too large. She puts it in her personal Dropbox instead and sends a link.
Sujal quickly passes it to Jonathan, who forwards it on to Delicioso the next morning.
Delicioso is on location at a TV ad shoot, so when he tries to open the large PSD file from the link, it doesn't work. He gets back to his desk on Friday, checks that it's the right content, and forwards it to Aka. Unfortunately it's already Saturday in Japan.
Even worse, Aka was on deadline himself, so back on Monday, a week after his original email, he had given up on the request and sent an expedited request to his local agency to shoot the package in Japan.
Looks brutal, doesn't it?
In CPG companies, manual processes are killing productivity, time to market, and the lack of visibility to content means it often gets recreated needlessly and expensively.
How do I know if search is broken in my organization?
The next obvious questions you should be asking yourself is, "do I have this problem?" and "How would I know?"
To find out, I suggest tracking and measuring the following:
How many content requests are made each week?
How many emails related to content requests and responses do brand managers send or receive?
How much time is required to fulfill a typical request?
How often has the same asset been re-shot multiple times (for different channels, for sell-in vs marketing, etc)?
Without a DAM solution in place, it may be difficult to measure these comprehensively, but even just asking around or doing a small scale investigation should highlight the key areas of concern.
Ok, Ok, I believe you. Search is broken. Help!
One option, if your system allows it, is to keep content silos as they are, but index all of them so the metadata transcends all of your systems and repositories, which allows folks to search and find content across silos.
This makes sense if some or all of the teams already have established processes that work really well that you don't want to upset.
Another option is to put all the content in the same DAM system, but preserve some flexibility for each division. For each group, establish which content they own and control access to (to change permissions, lifecycle states, expiration dates, archival/deletion/disposal, and so on).
At the same time, the DAM system provides visibility to all the content to everyone, based on a common metadata model.
At Pasta Buddy, everyone already orients around product names. So it's relatively easy to align on using that as the heart of the data model.
Watch this video to learn more about the challenges of Search in DAM System
DAM systems can help your company make more money
At Pasta Buddy, one major problem area that was hurting revenue was pretty clear.
The manual process for gathering data and content for ecommerce was not working.
What is a manual e-commerce workflow?
Brand managers are responsible for gathering all the necessary info. They have to track down images. They reach out to their external agencies, the internal creative team, look in their own files, or just search on Google.

They have to manually add key information into a spreadsheet template, including:

Product description & bullets

Key claims
Product data (size, color, etc)
Categories (e.g., Grocery & Gourmet Food : Pasta & Noodles : Pasta : Spaghetti : Sauce)

Retailer specific information

Since they do not have a central hub for locating content they used before, even for a simple update they have to dig around in their own files – or worse, search the content already posted on a retail website, and copy/paste that into excel.

They send that template to the person who has the unenviable job of copy / pasting these details from the spreadsheet into the various ecommerce sites' upload pages… all day, every day.
Learn more about ecommerce merchandising best practices in our whitepaper.
This is a really bad process! (And an all-too-common one we've seen at many companies.)
Common challenges faced when you don't have a DAM system
First, it led to brand inconsistency when copy was taken from retail sites instead of internal sources. There was no way to know if a retailer had made changes. Brand managers assumed (often incorrectly) that the information they were using came from Pasta Buddy, and that it had been properly vetted for accuracy.
Second, every time they'd upload content, they'd essentially have to reinvent the wheel – the process did not allow them to make incremental changes to previous copy, even for something as simple as an ingredient change.
And third, they didn't really have a handle on what was actually sold in ecommerce channels.
As bad as these three consequences were, the fourth was much more important.
Pasta Buddy makes about 2,000 product changes every year, and the company aspires to serve five main ecommerce channels. That represents 10,000 spreadsheets. Managing this is manually is completely unrealistic.
The really critical challenge was that this approach was totally unscalable. That made it literally impossible to merchandise their products on ecommerce channels, foregoing a very significant opportunity for revenue growth. Talk about a missed opportunity!
An automated process for e-commerce upload
Pasta Buddy fixed this by creating a managed and streamlined process for its brand managers to syndicate product information and related assets to retailers more easily.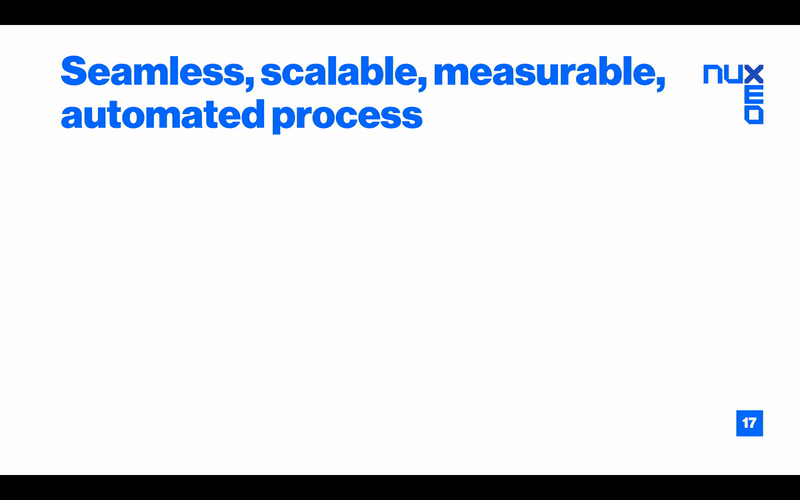 Specifically, when a new product is prepared for sale in the Product Lifecycle Management system (PLM), the PLM kicks off content management workflows in the DAM system (Nuxeo). Nuxeo sends a request for the assets from the agency, who uploads those assets back to Nuxeo.
Nuxeo pushes that content to the Product Information Management (PIM) system, where it is enriched with marketing data that's added or edited by brand managers. Finally, the PIM system pushes the content directly to ecommerce channels.
Learn more about our Product Creative Life Cycle Management solution.
What is PIM?
PIM stands for Product information management. It refers to a system created to manage all the data, content and processes around products.
There are actually PIM solutions built on the Nuxeo platform. For example, Keendo, a specialty ERP vendor serving the food industry for over 30 years, build a web-enabled PIM solution to address the new challenges of food manufacturers and retailers. They chose Nuxeo as their application development platform of choice to provide an alternative to existing PIM and PLM tools which were lacking the flexibility to handle regulatory standards and other key aspects critical to the food industry.
Here's the Keendoo story.
What are the DAM benefits of a Product Creative Life Cycle Management approach?
Be able to sell products directly on ecommerce channels
Have confidence in how those products are merchandised.
Better scale the brand managers efforts, since they're no longer wasting time tracking down imagery and other brand assets.
Easily find and reuse existing content, copy, edit anything
Focus on continuous improvemnent with SLAs for the internal agencies and brand teams. The internal agency, in particular, is eager to be measured, so they have a better way to showcase the value they add to the business.
How to connect your systems
I'd advise you to ask two more questions as you assemble your content lifecycle puzzle and determine where your missing pieces are:
What's the desired future state you're trying to get to?
What data do you need in order to get to that desired future state, and where is that data?
What information management systems are you trying to connect?
Pasta Buddy has a Product Lifecycle Management (PLM) system that they use to initiate new product creation. They also have a Bill of Materials supply chain management system that includes ingredient lists and sourcing information. Both systems have been around for decades and run on mainframes. As a consequence, information is added to both systems in very idiosyncratic ways. For example, instead of "turkey," they would key in "TRKY" and instead of "Chunky Tomato 16.9oz" they'd key in "CHTOM169."
Pasta Buddy wants to feed content from the PLM and the Bill of Material supply chain system into their (as yet nonexistent) PIM system. From there, they want brand managers to add marketing content–the kind of information you need on the digital shelf for e-commerce. They also want product managers to translate the coded terminology that's coming from the PLM and supply chain into human form (e.g., "turkey" instead of "TRKY").
Then they want to feed all of that data into the DAM solution so the rich media content can be searchable by product, ingredient, context (like "Italian family dinner"), description, and channel.
And finally, they want to feed e-commerce and retail creative assets from the DAM solution enriched with product information from the PIM.
But as they began to look into this, they realized they didn't actually know exactly what's in the PLM or the supply chain systems, or whether all brand managers do things in similar fashion. They also didn't know the exact requirements of the ecommerce and retail channels.
What to do? This is where my second question above comes into play: they had to figure out what data they needed to achieve their desired future state, and how to get that data.
What data are you trying to connect?
What they did know was that at Pasta Buddy, everyone is oriented around products, and all of their systems have reference to products in one form or other. So by talking to the teams that manage the PLM and supply chain systems as well as to the brand managers, they were able to identify a very small number of key identifying types of information (name, item numbers, descriptions, and sizes) that needed to live at the heart of the data model in order to facilitate the flow of information between these systems.
Pasta Buddy can now architect their DAM data model with this information serving as the foundation, and they know that when the PIM is in place they won't have to change much in the DAM in order to get much richer data automatically flowing into the data model.
Remain flexible with your data model
Every brand and business unit has its own terminology and nomenclature for describing assets as well as distinct folder and file naming conventions. And that's before even considering actual language differences in a global organization.
This makes the process of locating an asset harder to do than finding the exit in a Vegas casino.
Use your own terminology
One way to address this challenge is to use synonyms so different business units can use their own terminology … if your DAM has strong capability in this area.
At Pasta Buddy, one example of this was that different brands had different terminology for the packaging photos. What one group called "front," another called "front up" or "front down." And the same dilemma applied for top shots.
You could choose to keep all these names as synonyms so that regardless of terminology, users find the same content.
But for Pasta Buddy, this approach led to confusion for their centralized internal agency because they couldn't consistently interpret the requests, and as a result, they'd often have to reshoot. As you can imagine, this wasted time and money.
Also, DAM is part of a larger cultural and digital transformation initiative at Pasta Buddy, so aligning the entire organization around common vocabulary was a very useful objective. They opted to standardize the terminology in the DAM solution, which enabled them to tear down their Tower of Babel.
Luckily, a good DAM system can help with a flexible and modular data model.
Getting everyone to turn on a dime isn't easy.
In Pasta Buddy's case, the metadata model was made up of different schemas and every type of content had its own structure. If these are all combined, any changes would have to be replicated everywhere.
For example, each layout or screen in the system often has information about various usage rights associated to it. But you might have different layouts for pictures, videos, documents, and projects. If you decide to change how usage rights are defined, or enrich the definition for one group that needs it (like "international"), suddenly you have to change all of the layouts everywhere. That increases the odds of configuration mistakes and inaccuracies, not to mention the confusion associated with the entire process. It's also entails a lot more work, so your IT team will likely have a longer backlog and move slower, and probably will not be able to drive the change you need.
Instead, we made sure there was a separation of information:
product and asset definitions that define what something is,
usage rights that explain how to use it,
and requests and projects that define how to manage it.
That way, each can be changed independently, and the changes automatically apply to the relevant content.
This is also super-valuable to end users because this approach allows you to build relationships between images and products. The image has a metadata model, and the product has another – and when they're linked – when you search for one, you'll also find the other.
Content in context!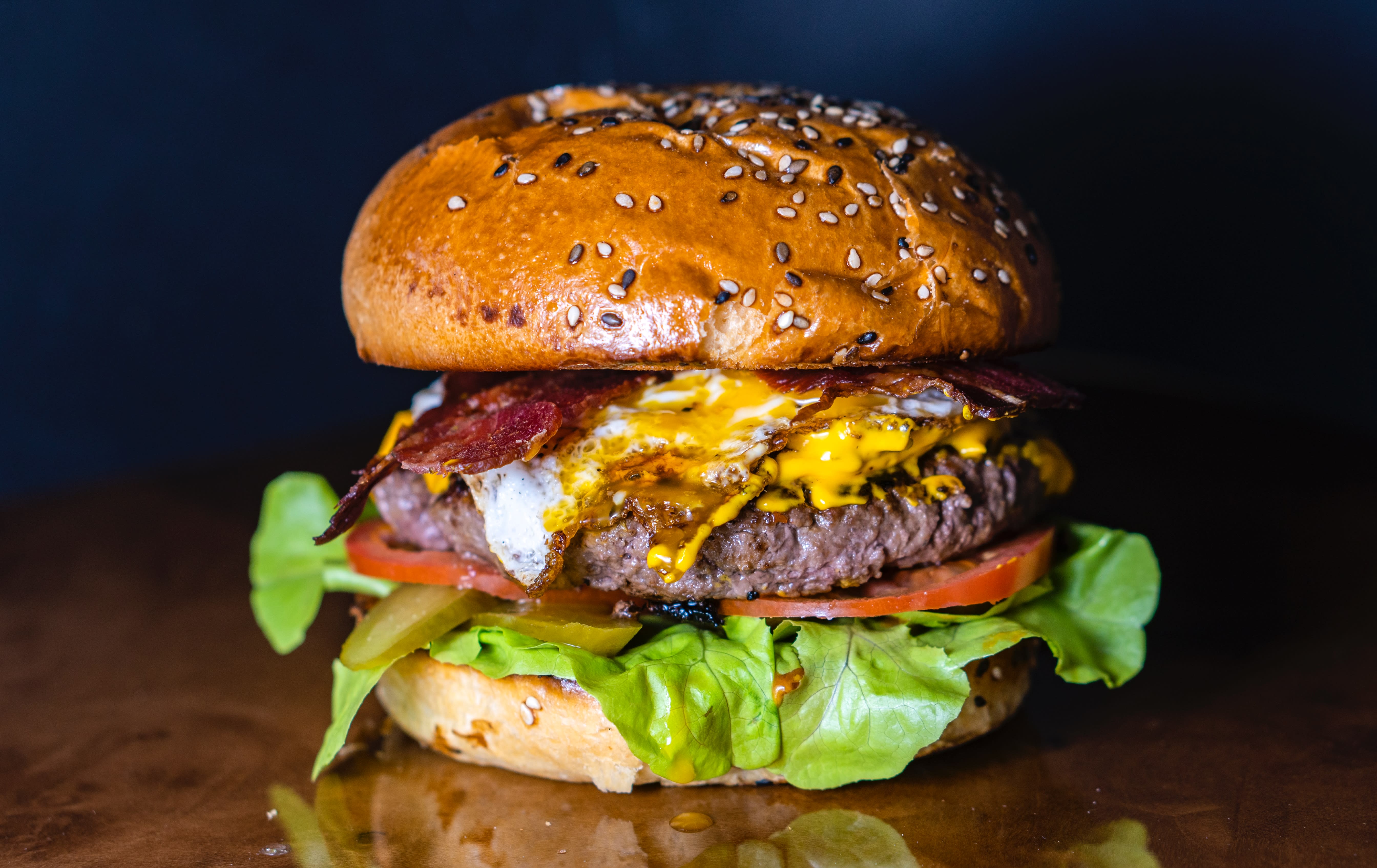 For example, let's say you take a photo of a hamburger. It has 7 products in it: mayo, onion, lettuce, tomato, cheese, beef, and a bun. To make that fully searchable, when someone is looking for one-pound frozen hamburger patties, you need to enter all the relevant product information as metadata on that hamburger. And do it for all seven products. That's exhausting!
But if product and image data are separate and linkable, you can simply reference the products used in the image (selecting just seven things) and all the metadata on each of those products is now part of the record-and searchable so people can find that hamburger really easily.
Similarly, in the fashion industry, you might take a photo of a model wearing an outfit that has a hat, scarf, dress, and a pair of shoes for page six of the spring catalog. With linking, now you can search for size seven pumps and find the outfit.
I also want to go back to how this relates to planning for future DAM integrations. Pasta Buddy had identified that the core elements of their metadata model were a few fields relating to product definition.
By having a separation of schemas in the product definition, they knew that when the PIM came online, they could have a much richer model around products – with more fields, more human data, more marketing copy – without having to change anything else.
Don't spiral out of control in scope and ambition
Go slow to go fast ("Festina lente" in Latin) was the motto of Roman Emperors Augustus, Titus, and renaissance man Cosimo de' Medici. As far as I know, none of them knew much about DAM, but they did know a great deal about leading change in large organizations. As in Rome and Florence, festina lente is a critical success factor for DAM implementations.
Digital Asset Management initiatives tied to broad corporate objectives can easily spiral out of control in scope and ambition. Ambition is good, of course – it got us to the moon almost 50 years ago. But you have to get there step by step.
If you go too fast, you'll likely alienate some key stakeholders along the way, make assumptions or mistakes that are hard to rectify, and put the success of your efforts at risk.
Going far… By going slow
Don't forget that you can iterate. There's a strong desire for all of us to get it all right the first time and get caught up in that instead of adopting a mentality of "it has to be mostly right the first time, and we will adjust." End users especially will overwhelm you with feature requests, particularly when features aren't apparent.
What we've seen work best is when you can adopt a reasonable phase one scope that gets you to real – but partial – value for the business. It's your quick win that builds momentum for the longer journey.
During phase one, it's critical to communicate clearly – as well as to over communicate what is still to come. Take a transparent and open approach. Explain why decisions are being made along the way. Transparency breeds trust and confidence.
So how do you appropriately scope your first step of the DAM implementation?
Identify primary pain points and attempt to isolate them to a known group of users, a few brands, or functional groups that have already expressed a desire toward your same goal. You can build a foundation around that while also building goodwill toward the broader DAM project over time. And of course, make sure to get end user input throughout the implementation process.
Initial DAM implementation Example
Pasta Buddy chose three brands to include in the initial phase, which they selected to represent different aspects of the company as well as based on their size and availability.
One brand was a recent acquisition with many of its own processes that was looking for additional support.
Another was a long standing legacy brand managed in the classic company methodology.
And the third was a division that's been part of the company for decades, but always managed separately.
Sprint planning for DAM implementation example: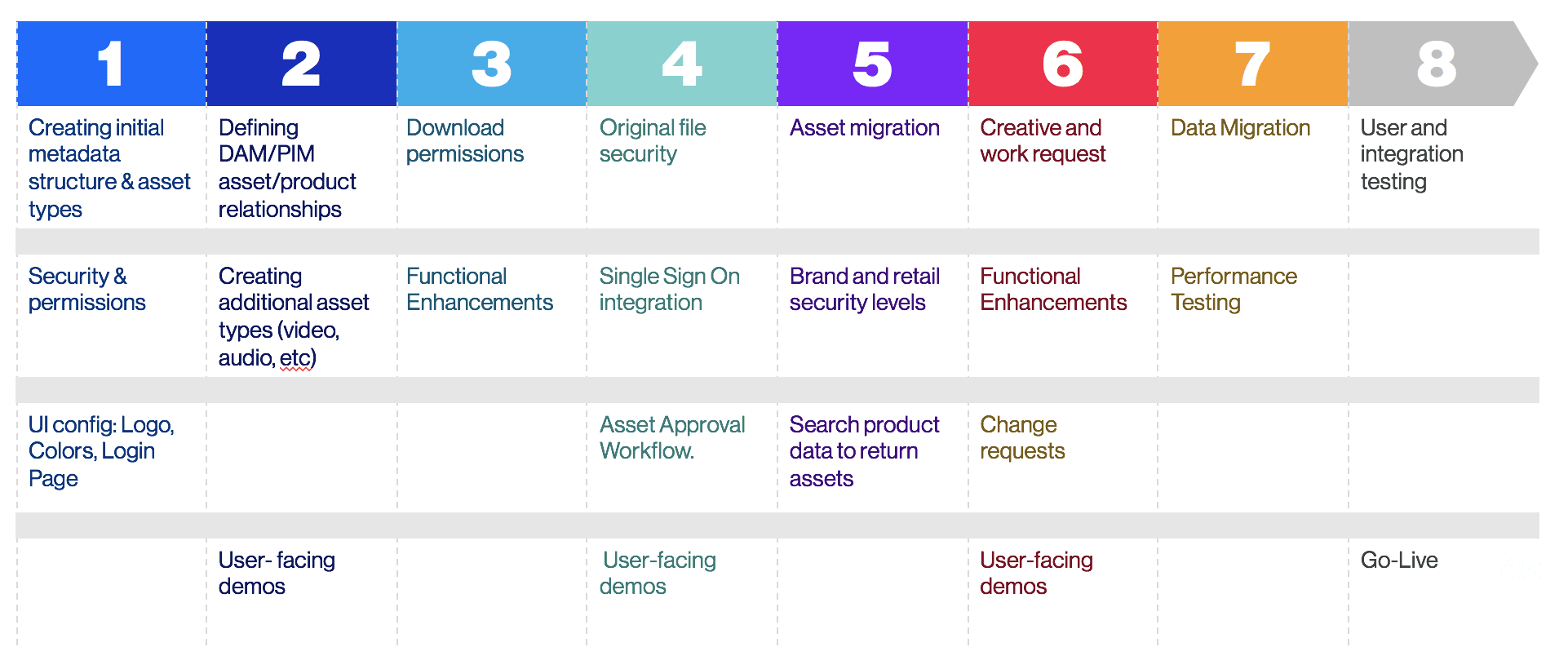 After this phase, the next steps Pasta Buddy plans are:
Getting the PIM system online and getting data from it into the DAM solution
Identifying additional functional groups that match one of the 3 types already onboarded to expand scope
Identifying additional features to support groups that don't match these three types or that benefit the whole ecosystem.
I hope you've gained some practical knowledge you can use to ensure you maximize your Digital Asset Management investment. Please reach out to us if we can help!
Most common questions on DAM implementation
What's a "good" timeframe for a first DAM deployment?
Of course the answer to this kind of question is always, "it depends." It depends on a host of factors: size, clarity, and stability of scope; size and complexity of the customer; support from executives to make the relevant folks available when necessary; how strong a cultural shift is required; and so on.
In this instance, the scope was pretty well defined and agreed to at the beginning of the project, and the customer's team did a great job of staying engaged and focused on this project. As a result, the total scope of the first deployment from starting the work to going live with a production instance was eight 2-week sprints. It was originally planned at seven, but due to some additional scope elements that were added, an additional sprint was also added.
You can see the highlights of the work in each sprint here:
How important is metadata to the Nuxeo solution?
Incredibly important! Metadata is what powers everything. More specifically, Nuxeo's object model means that every piece of metadata, file, attachment, permissions, user, and so on are equivalent objects that can be connected in various ways. In a typical use case like the one described in this webinar, lifecycle states are defined metadata attributes that are used to drive permissions. As a result, draft content is only visible to those working on it, while approved content is more broadly visible across the organization. But that's just the tip of the iceberg. Google "Nuxeo metadata" for tons more info.
For the initial metadata models, do customers adopt facets more quickly than a full blown taxonomy?
One of our client faced a choice that is valid for any relatively large, siloed organization adopting DAM: whether to gain alignment on terminology between silos and require everyone to use consistent terminology in search, or to let everyone continue to "speak their own language" and use synonyms to make it easier to find the same content in multiple ways. Ultimately this is a question the client has to answer about their appetite for investing in change management.
How do you deal with higher level people or decision makers/etc. that don't see value in metrics?
In my experience, the more senior you get in an organization, the more data can help gain agreement and buy-in. What is important is that the data you bring and the case you make be aligned to the overall company strategy. If the CEO says "our strategy is to go left" and you come with data that shows you are going right more efficiently than before, it's probably not that helpful!
What roles are most important on the client implementation team?
Usually, on the client's team there are core project owners from the digital transformation office. They have IT staff helping to identify the four key aspects of product data that will be at the heart of the data model, as well as the other systems and repositories where information resides. Next are the representatives of the user groups – brand managers, commercial teams, international teams, and the internal agency. They're super important because if they aren't on board, if they feel like their concerns aren't being considered, or if they don't know you, widespread DAM adoption is much less likely.