Last week, I gave a webinar entitled 5 Ways To Get DAM Implementation Right—And One Big Mistake To Avoid (Lessons from the Front Lines) with the good folks at Henry Stewart.
I provided a detailed description of our DAM implementation at a major consumer packaged goods company, and also highlighting some best practices.
How to implement your Digital Asset Management correctly:
How to make content findable across silos
How to empower revenue growth
How to connect to systems, even when they don't exist
The importance of staying flexible
Connecting DAM implementation to larger corporate initiatives
I also touched on something to be watchful of - and avoid: trying to go too fast, and taking too large a scope at once.
We received great questions from many of the webinar attendees, and I want to use this post as an opportunity to highlight some of them that we had time to answer during the webinar, as well as some that we didn't have time to answer because of time constraints.
Q: What's a "good" timeframe for a first DAM deployment?
A: Of course the answer to this kind of question is always, "it depends." It depends on a host of factors: size, clarity, and stability of scope; size and complexity of the customer; support from executives to make the relevant folks available when necessary; how strong a cultural shift is required; and so on.
In this instance, the scope was pretty well defined and agreed on at the beginning of the project, and the customer's team did a great job of staying engaged and focused on this project. As a result, the total scope of the first deployment from starting the work to going live with a production instance was eight 2-week sprints. It was originally planned at seven, but due to some additional scope elements that were added, an additional sprint was also added.
You can see the highlights of the work in each sprint here: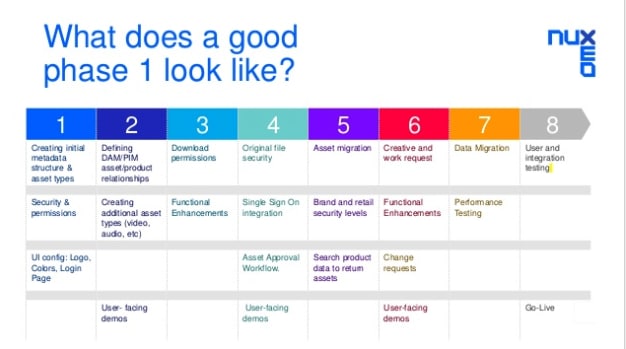 Q: How important is metadata to the Nuxeo solution?
A: Incredibly important! Metadata is what powers everything. More specifically, Nuxeo's object model means that every piece of metadata, file, attachment, permissions, user, and so on are equivalent objects that can be connected in various ways. In a typical use case like the one described in this webinar, lifecycle states are defined metadata attributes that are used to drive permissions. As a result, draft content is only visible to those working on it, while approved content is more broadly visible across the organization. But that's just the tip of the iceberg. Google "Nuxeo metadata" for tons more info.
Q: In the overview of the deployment schedule (on slide 29) Could you tell us a bit more about the difference between the sprint phases involving asset migration and data migration?
A: Asset migration in sprint 5 was to build, configure, and test the migration path. The data migration in sprint 7 was to use that process to put data into production (You can't use a process until you build it! :-) ).
Q: Does Nuxeo support the IPTC Video Metadata Hub?
A: Yes! More generally, our metadata model is completely flexible so anything that isn't supported out of the box can be configured very easily.
Q: Aren't agency/release workflows simply a matter of the rights, access controls, and approvals before release? I'd assume that's a pretty basic functionality as it feeds the release systems?
A: That's right – nothing complicated here; just need to configure the specific rules a given customer wants!
Q: For the initial metadata models, do you find that customers can adopt facets more quickly than a full blown taxonomy?
A: One of the points I discussed in the webinar was a choice our client faced (and for any relatively large, siloed organization adopting DAM): whether to gain alignment on terminology between silos and require everyone to use consistent terminology in search, or to let everyone continue to "speak their own language" and use synonyms to make it easier to find the same content in multiple ways. Ultimately this is a question the client has to answer about their appetite for investing in change management.
Q: How do you deal with higher level people or decision makers/etc. that don't see value in metrics?
A: In my experience, the more senior you get in an organization, the more data can help gain agreement and buy-in. What is important is that the data you bring and the case you make be aligned to the overall company strategy. If the CEO says "our strategy is to go left" and you come with data that shows you are going right more efficiently than before, it's probably not that helpful!
Q: How many users are in the DAM deployment outlined?
A: The initial scope is about 50-100 users in the company's internal creative and brands teams. External agencies are also in scope, but not counted in the figures above. Future phases will be accessible to the entire company.
Q: What is a PIM?
A: Product information management. There are actually PIM solutions built on the Nuxeo platform. For example, Keendo, a specialty ERP vendor serving the food industry for over 30 years, build a web-enabled PIM solution to address the new challenges of food manufacturers and retailers. They chose Nuxeo as their application development platform of choice to provide an alternative to existing PIM and PLM tools which were lacking the flexibility to handle regulatory standards and other key aspects of the food industry. Here's their story https://www.nuxeo.com/customers/keendoo/.
Q: What roles do you find most important on the client implementation team?
A: In the example cited in the webinar, the actual configuration work was done by the Nuxeo services team. That aside, on the client's team there are core project owners from the digital transformation office. They have IT staff helping to identify the four key aspects of product data that will be at the heart of the data model, as well as the other systems and repositories where information resides. Next are the representatives of the user groups – brand managers, commercial teams, international teams, and the internal agency. They're super important because if they aren't on board, if they feel like their concerns aren't being considered, or if they don't know you, widespread adoption is much less likely.