I am very excited to share my thoughts on digital transformation with you for the first time in a blog. I've been working at Nuxeo for so long, so you may ask why now? Because as this Forbes article says, more and more marketing people are involved in the success of a digital transformation, and as a Marketing person, I would like to add my two cents to the jar.
The term "digital transformation" is commonly used (and not only by Marketing people :)) to address the capacity of an organization to embed digital technology to improve overall performance. Like many large companies, you might already be working hard to turn your data into highly valuable digital assets. Embracing a Content Services Platform to manage your data, your information, and your knowledge, is the key to a successful digital transformation.
Legacy Enterprise Content Management system have been helpful in the past, but today they're not able to face the new challenges brought up by the increasing complexity, size and throughput and diversity of digital assets… Think JSON objects! Schemas, data models, and streams are always changing; security policies have to be robust, and search and audit are more important than ever.
Of course, all this complexity has to be managed at scale!
Integrating with MongoDB as a native content & data storage back-end last year, and adding Elasticsearch as a scalable query engine two years ago, were life-changing events for the Nuxeo Platform. From a simple search to suggestion widgets, fuzzy search & search on synonyms, on a massive amount of content, the Nuxeo Platform is now ready for your most complex and dynamic queries. Our benchmarks are public so you can see what we're capable of regarding storage, but in few words:
Tested at 1 Billion+ documents on a single cluster (and the benchmark at 3B is coming soon!!!)
10x throughput of any other approach * 5x faster bulk import than other SQL databases
High availability and resiliency
If it wasn't enough, the Nuxeo Platform also offers military-grade secure content management systems (check out our US Navy case study) and cloud-grade elasticity.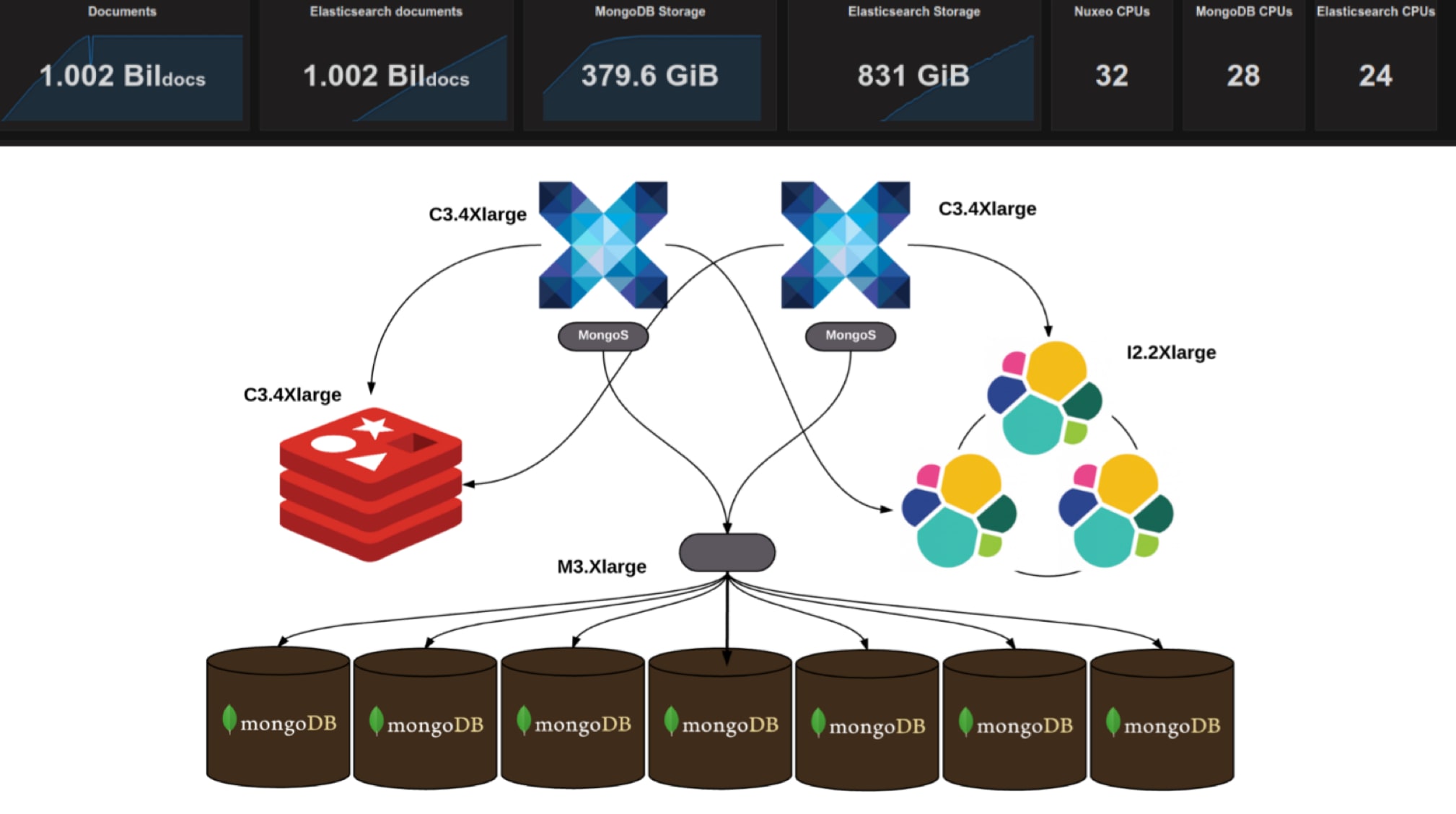 Enterprise environments are very demanding, and our developers continue to improve our scalable, safe and performant platform for you! We're proud to offer a hyperscale platform to the Enterprise Content Management system and Digital Asset Management system markets.