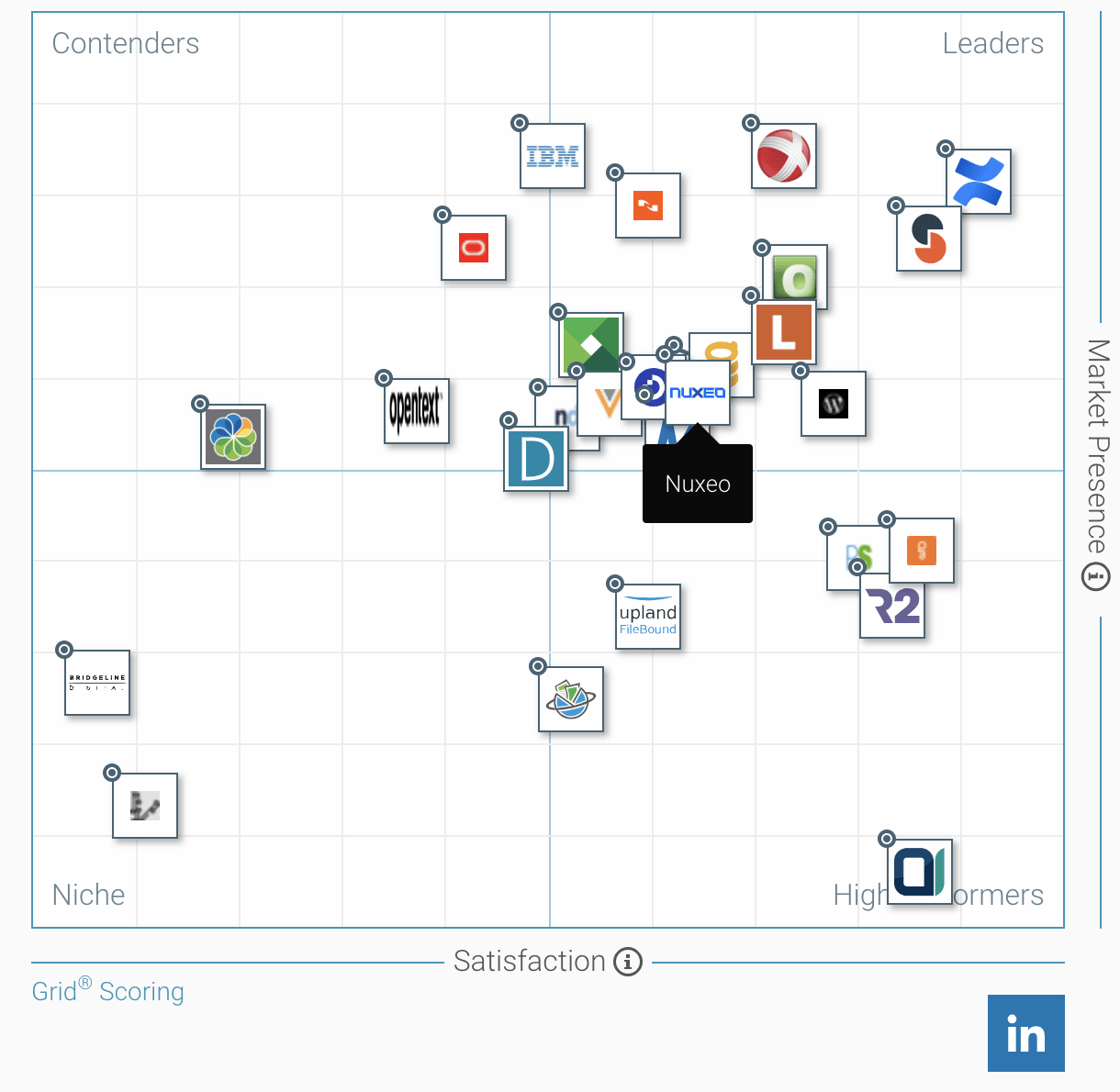 Nuxeo has been recognized as a Leader in the recently published G2 Crowd Grid Report for Enterprise Content Management (ECM)! We've been identified as one of the best Enterprise Content Management software based on our high levels of customer satisfaction and because of the likeliness to recommend ratings from real users on G2 Crowd.
Nuxeo, Leader in ECM
ECM users on G2 Crowd (and all over the world) are realizing that the old-school concept of managing all content in a central repository just doesn't work. Nuxeo's approach is to connect to existing systems and manage content in place, which allows enterprises to leverage content stored in their existing enterprise content management systems without the disruption associated with ripping and replacing legacy ECM systems and embarking on long and painful migration projects.
It's this modern approach that's driving Nuxeo customer satisfaction and referrals - two of the criteria that are heavily-weighted in G2 Crowd vendor reviews!
Discover our enterprise content management system now!
Nuxeo Also Recognized for Digital Asset Management Solution
In addition to our ranking on their ECM Grid, Nuxeo was also recognized as a Contender in the G2 Crowd Grid Report for Digital Asset Management!
Our DAM customers and users tout our ability to connect content silos to better harness and manage their digital assets. Nuxeo integrates with legacy ECM and DAM systems so you can access digital media throughout your organization without changing its location. That means no interruptions to your content management workflows, and easier adoption for your teams!
Discover our Digital Asset Management system now!
G2 Crowd Report Rankings Based on ECM User Reviews
G2 Crowd touts itself as the world's leading business solution review platform, and leverages more than 381,000 user reviews to drive better purchasing decisions. Business professionals, buyers, investors, and analysts use the site to compare and select the best software and services based on peer reviews and synthesized social data.
Nuxeo was recognized in all three G2 Crowd reports by receiving positive reviews, from verified users compared to similar products in their respective categories. For inclusion in the report, a product must have received ten or more reviews.
Rankings on G2 Crowd reports are based on data provided to us by real users. We are excited to share the achievements of the products ranked on our site because they represent the voice of the user and offer terrific insights to potential buyers around the world.
said Michael Fauscette, chief research officer, G2 Crowd.
Learn more about what real users have to say about our modern approach to enterprise content management and digital asset management, or leave your own Nuxeo review on G2 Crowd's Nuxeo review page!