It's easy for smartphone users to take for granted that they are holding an amazingly powerful computer in their hands. Native mobile apps make the most of this power, which is particularly important to providing strong Enterprise Content Management system and Digital Asset Management system functionality to mobile users.
Unlike mobile web apps, native apps are essential to providing enterprise-class functionality for global workers and teams who are increasingly mobile and require on-demand access to enterprise content. Native apps even provide functionality when offline.
Surprisingly, web app security is still a serious concern. A writer for DAM News recently evaluating the web UI of an unnamed DAM vendor found that no security model had been implemented. A user ID and password was required to get into the system, he wrote, but if you knew the location of the assets, you could access them directly later without logging in. (I'd be remiss if I didn't mention here that the Nuxeo Content Services Platform always requires a default digital assets security model, even when developing new content applications.)
Nuxeo has long provided resources for developers to build their own Nuxeo mobile applications, including Android and iOS client SDKs. At the same time, we recognize our developers are incredibly busy and a mobile app might not be a top priority.With that in mind, we wanted to provide a 'quick win' for our customers and provide a ready-to-use mobile app with advanced capabilities for accessing a Nuxeo content repository.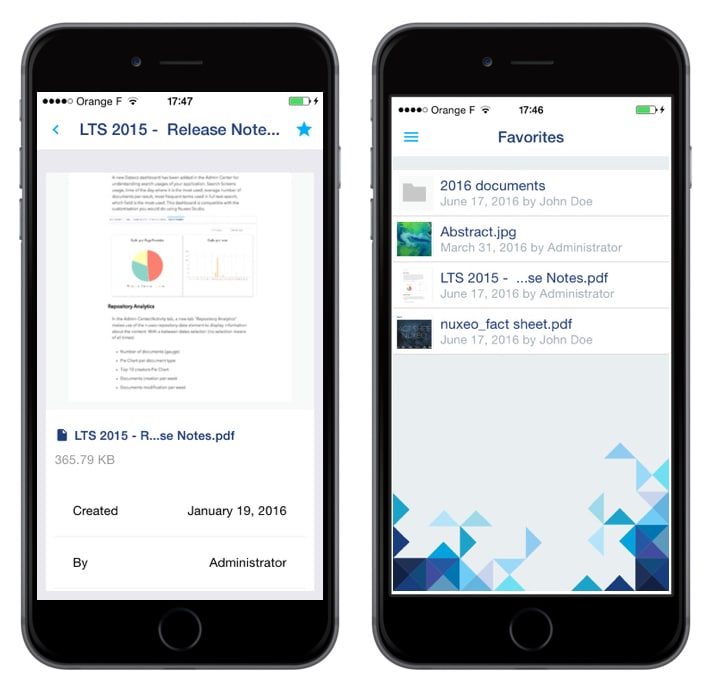 With this Nuxeo Mobile app release, we provide the best possible experience for all mobile users to find and access content from the Nuxeo repository, including offline browsing of collections of content. Download the iOS app now and let us know what you think!
Don't worry, Android users: the Nuxeo Mobile app for Android is coming soon! Rather than develop one code set and automatically generate two mobile apps, we have chosen to use React Native to develop the Nuxeo Mobile app. Doing so has allowed us to develop a native Android app at the same time, reusing much of the same fundamental code, with nominal additional development.
Of course, this is only the beginning for the Nuxeo Mobile app. Our roadmap includes mobile app releases to enable capture of content and metadata, followed by business processes with mobile forms and notifications. New releases of the Nuxeo Mobile app will provide incredible value for all Nuxeo users - even for those organizations with a highly customized Nuxeo repository.