With its latest release, Nuxeo's updated Salesforce for ECM integration enables even tighter integration with Salesforce, the leading customer relationship management platform, with support for its new Lightning Experience. With these advancements, customers can more easily leverage Nuxeo's content services to drive better business outcomes and increase user productivity.
It's widely understood that Enterprise Content Management system provides significant value to organizations. The building blocks of most leading ECM systems enable organizations to consolidate and quickly access critical business information, and then leverage this information to extract business value.
Search – quickly find critical information, instead of having to look through many different sources throughout your enterprise
Ensure security and compliance – protect your content, limit access to sensitive content, prevent unauthorized editing, and adhere to regulations or best practices
Accelerate key business processes – rather than supporting key processes from afar, ECM can present the relevant information to enable faster decision-making
Why is Integrating your Content and Business Systems Important?
As well-established as these benefits are, ECM is not without its challenges. ECM systems are often siloed or lightly integrated into critical business systems. As a result, users often are forced to switch between different, disconnected systems or are confronted with separate and confusing user experiences. The result is ECM solutions that frustrate end users by adding manual steps that lead to poor adoption and inaccurate business decisions. These solutions also require extra training or require users to switch between business apps to get their jobs done.
The key is better integrating the content needed to make decisions and complete business processes directly into these core business apps. Instead of switching between apps to search for information needed to make these decisions, a more productive solution presents a properly curated library of relevant business information right in their familiar business solution. Nuxeo's Salesforce Connector for Content Management delivers this value to its Salesforce customers.
The seamless integration between Salesforce and Nuxeo ensures that appropriate information is available to any authorized Salesforce user, while behind the scenes, this content remains securely managed by Nuxeo. These users are able to fully interact with this content without switching between apps, including viewing, editing, adding new documents, and more.
Supporting the Lightning Experience
In its most recent release, Nuxeo has added support for the Salesforce's new Lightning Experience, for a truly seamless integration of Nuxeo's content services and the native Salesforce user experience. The result enables joint customers to quickly configure intuitive user experiences that are consistently presented, easy to understand, provide a 360-degree customer view to support smart business decisions, and maximize end-user productivity.
The Nuxeo Salesforce Connector exposes a wide range of Nuxeo content services. Users can quickly and easily access critical content in the context of a Salesforce object, either by linking a Salesforce object to a Nuxeo folder or by linking the object to a configurable query. Salesforce users can also execute global searches across the Nuxeo repository and even federated content sources to access additional content and other critical customer information, like emails, SMS messages, and even social media content. The Nuxeo Platform can even intelligently surface suggested similar items of content.
An embedded document viewer enables users to quickly preview content of all types, including PDFs, Office365 documents, and even images and videos). Search results are presented with text highlights to help users quickly find the information they need. And, of course, content can be downloaded and directly opened into native applications like Word or PowerPoint. Salesforce users can also quickly add new content through the Lightning interface by simply 'dragging and dropping' files. And they can even create folder structures and new versions of existing content, again all from within Salesforce.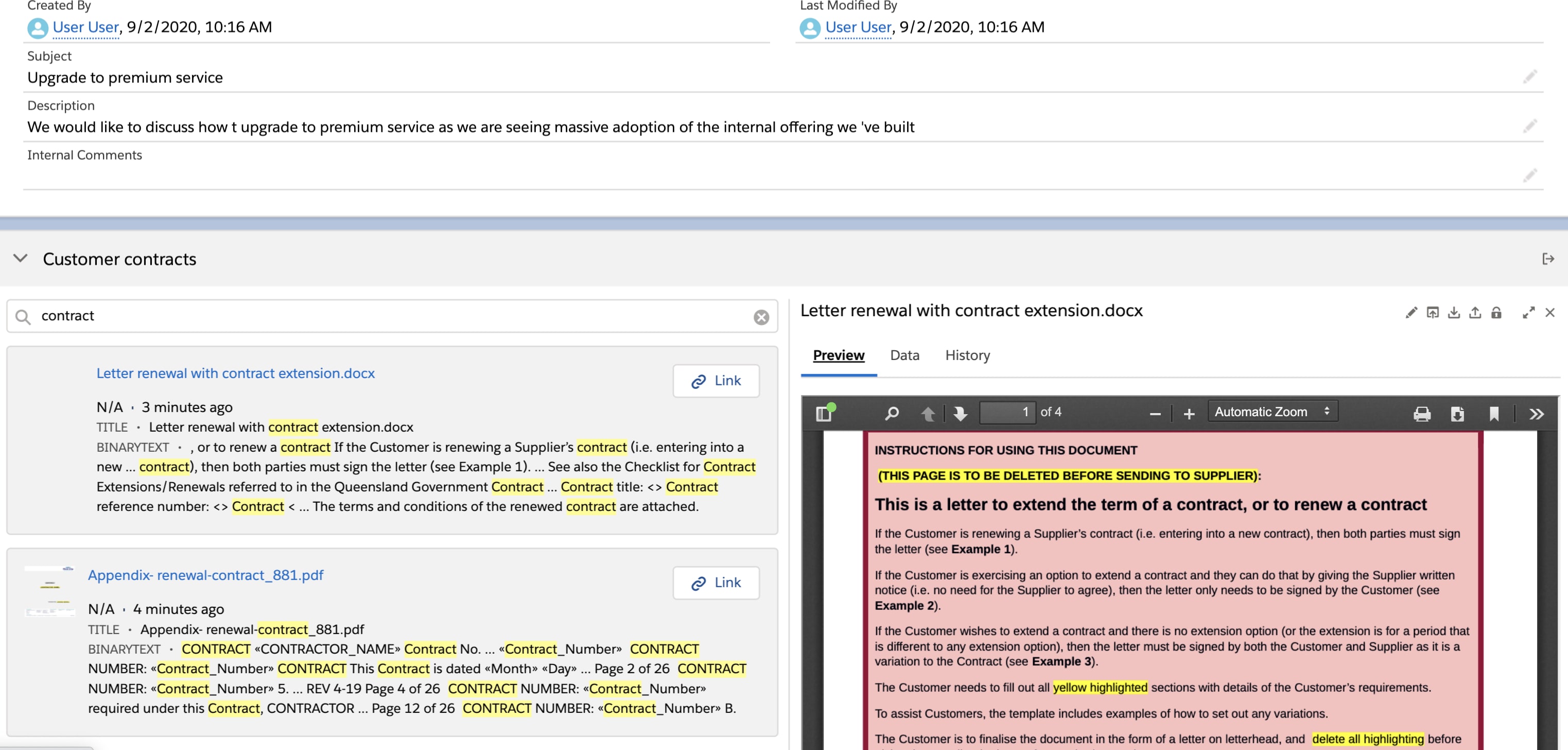 Beyond Lightning
Nuxeo's new Salesforce connector is just one component of a larger strategy to integrate with Salesforce and deliver maximum value for our joint customers. Beyond enabling Salesforce users to quickly and easily manage Nuxeo content from within the Lightning interface, Nuxeo can also provide federated access to Salesforce data and content. This is critical for customers who may have started down a path by initially storing documents and other content in Salesforce CRM Content and now want to share this information more broadly, either inside or outside their organization. Similarly, customers may also want to use existing Salesforce information (e.g. customer, account, or opportunity data) to enrich metadata in the Nuxeo Platform that will increase the findability and inherent business value of related content.
Taking Advantage of Content Services to Drive Business Results
This is what the next generation of enterprise content management looks like. Instead of developing standalone applications using a monolithic platform, Content Services Platforms provide robust services that are seamlessly integrated into the business apps that enterprises rely upon. They enable business apps to provide the right content at the right time to make users more productive and help them to better analyze content, make more enlightened decisions, deliver better, more consistent results.